Outside Of The Body There Is Something Like Hope - Joshua Jennifer Espinoza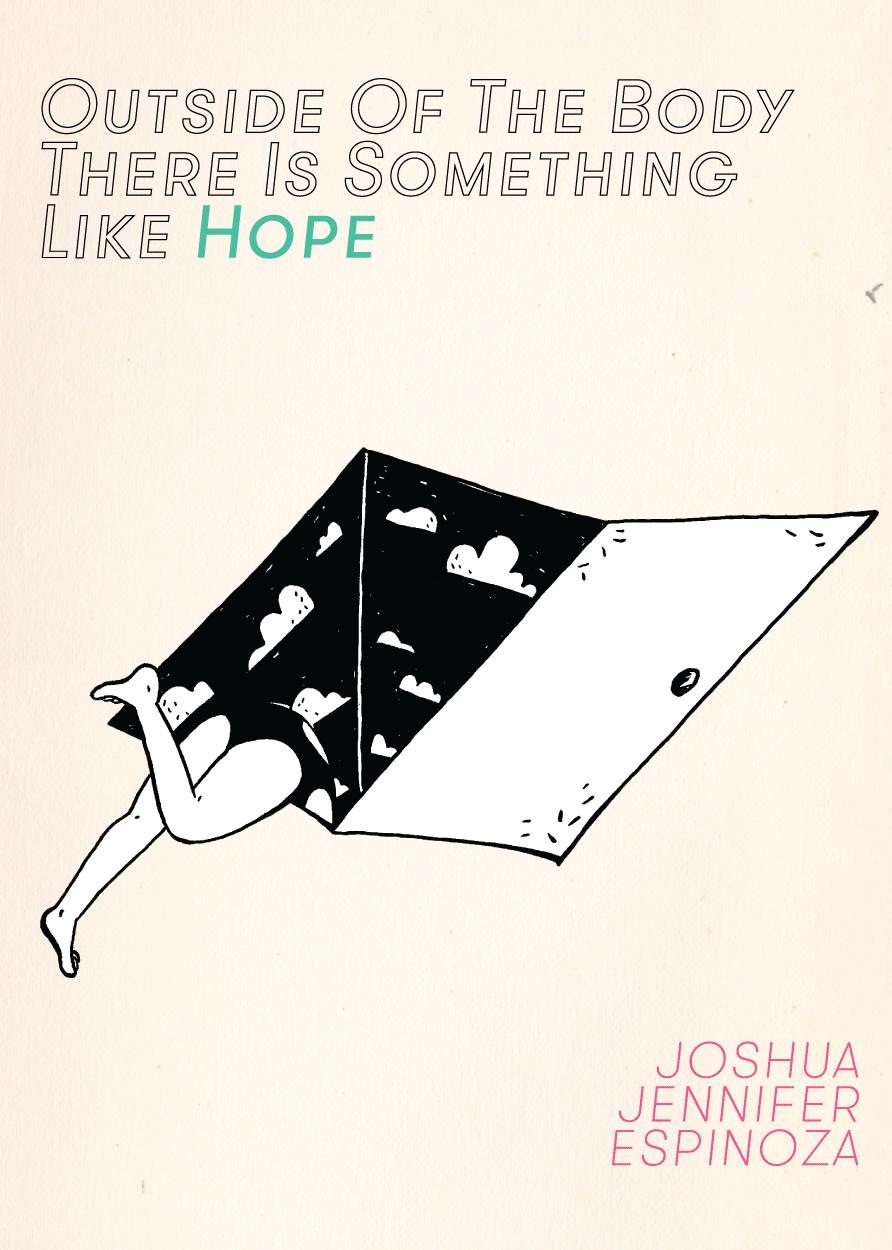 Outside Of The Body There Is Something Like Hope - Joshua Jennifer Espinoza
ISBN: 978-1-941985-83-0
46 Pages
5.8" x 8.3"
Ltd. Edition Print Run
Ship Date: September 10th, 2018
In Outside Of The Body There Is Something Like Hope, Joshua Jennifer Espinoza reclaims a cloudy, dream-like girlhood and simultaneously reckons with the dense trauma of being trans in a world so often interested in literally trying to kill her. Espinoza invokes both the lightness and heaviness of living, loving, struggling, and thriving within a trans body and outside it: she brings the celestial plane down to our gritty Earth and we are better for it. A narrative of growing pains & a triumphant call-to-arms for the liberation of all bodies, this tiny book allows us to breathe this air beyond the clouds and * ultimately requires us to return anew & changing & filled with (something like) hope.
sold out
PRAISE FOR JOSHUA JENNIFER ESPINOZA
"Espinoza's gift is her use of exquisite language and arresting images to capture this contradiction of self-destruction and resilience that lurks inside us, a piercing glance that is compassionate, but not pitying, into physicality of trans women's lives."
-Autostraddle
"Among many things, Joshua Jennifer Espinoza's poetry explores desire, the reality of living within the confines of the human body, and queer strength. Identity in her poems is in constant negotiation between the self and the world, and is at times seen as both liberating and binding. One way in which the speaker understands being queer is by seeing it as a place of mid-invention, a space where the everyday becomes ceremonial, political, and stylized."
-Them.
"[Joshua Jennifer Espinoza's] poems are flawless in their directness, and wonderfully imperfect in their human-ness."
-Up the Staircase Quarterly
Joshua Jennifer Espinoza is a trans woman poet living in California. Her work has been published in Denver Quarterly, American Poetry Review, Lambda Literary, PEN America, The Offing, and elsewhere. She is the author of two poetry collections: i'm alive / it hurts / i love it (boost house 2014), and THERE SHOULD BE FLOWERS (CCM 2016).